CHF 21 Per person (Inc. staff)
Ropes Park Interlaken is the perfect choice for your school trip. The park is only 15 minutes walk from Interlaken West train station, yet completely surrounded by beautiful forest and views of the Jungfrau Panorama.
We cater to all your essential needs including a peace-of-mind safety system, free BBQ and picnic area, free and secure storage room, and many surrounding walks to explore before or after your visit.
Our office is open every day to answer your questions and help you organise your visit. We look forward to welcoming you to our Ropes Park!
Local Walks
We have put together the best hikes around the Adventure Park Interlaken so that school kids can have the perfect excursion. These four easy to medium hikes are a great way to complement a visit to the Adventure Park. Visit the Unspunnen ruins, a rapid toboggan run or a unique view from the vantage point on the Heimwehfluh.
Download PDF (German)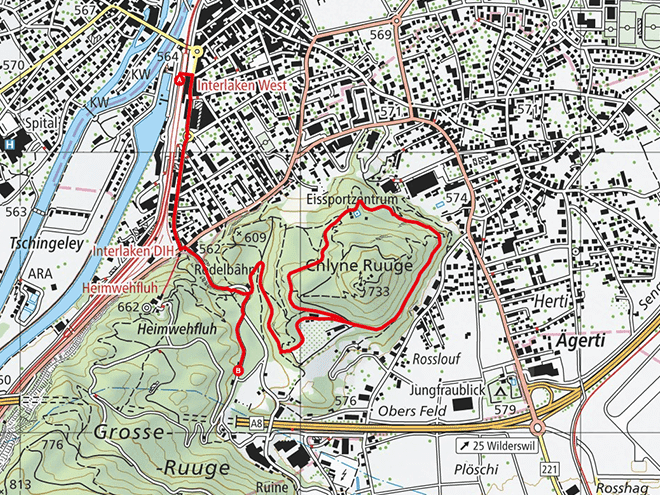 Ringweg Rugen
Interlaken West Train Station → Seilpark Interlaken
164m vertical
4.64 km.
1.5 hrs
The Ringweg at Kleinen Rugen is an easy, well-signposted circular hike. Along the way, there are beautiful vantage points with varied views of Lake Thun and the imposing Eiger, Mönch and Jungfrau of the Bernese Alps.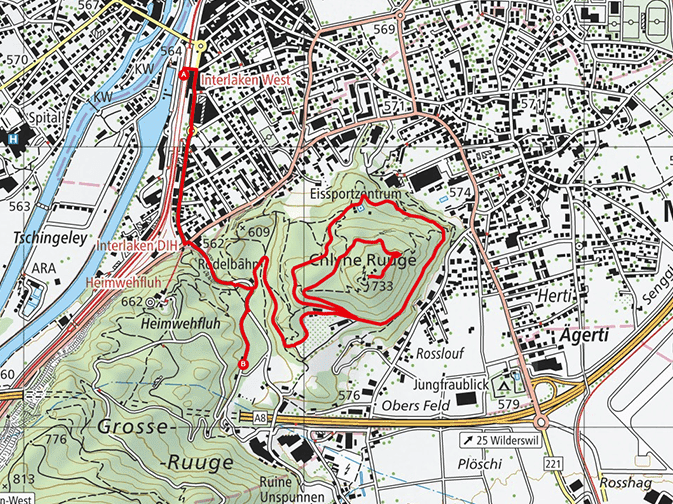 Ringweg plus Hohrugen
Interlaken West Train Station → Seilpark Interlaken
268m vertical
6.34 km
1hr45
Following the signs in the direction of Rugen Ringweg, you walk just before the drinking fountain above the Interlaken rope park. A well-developed path leads uphill from here to the Hohrugen. On the way, you can take small breaks to marvel at the impressive Lauterbrunnen valley and the unique mountain panorama.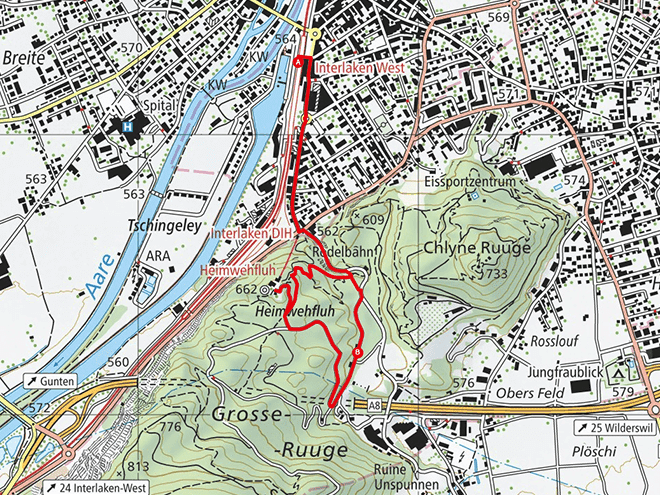 Heimwehfluh Rundweg
Interlaken West Train Station → Seilpark Interlaken
138m vertical
3.13 km
1 hr
The well-signposted hike takes you from the Interlaken West train station via the Interlaken rope park up to the Heimwehfluh. The panorama restaurant, the observation tower and a playground await you there. Whether you enjoy the slide, the swing or the hamster wheel, you'll have a great time. You can then return to the rope park via the well-signposted path.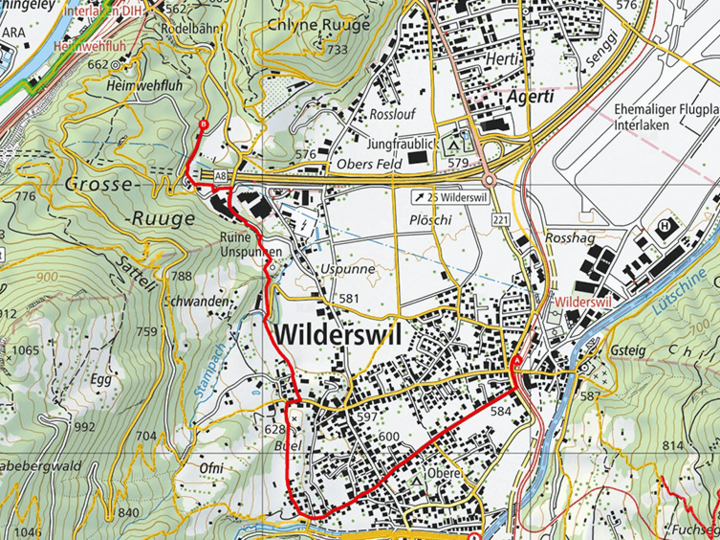 Ruine Unspunnen from Wilderswil
Wilderswil Train Station → Seilpark Interlaken
65m vertical
2.95 km
45 min
The starting point for this hike is the Wilderswil train station. The path leads through the historic centre of Wilderswil slightly uphill to the Tellweg. From here you can take the hiking trail parallel to the village to the medieval castle ruins of Unspunnen. The rope park can be reached in a few minutes from here..