Glacier Canyon Grindelwald
It took 250 million years for Mother Nature to carve out this incredible canyon!
Sadly the lower glacier no longer exists, but the canyon itself is now thriving as a popular destination for a unique sensory walk through its exposed rock galleries and tunnels. The rushing water cascades freely from the mountains into the Lütschine River below, sometimes causing a sudden rush of wind through the canyon and a rapid temperature flux as rays of light reflect along the steep walls.
Prices Opening times How to find us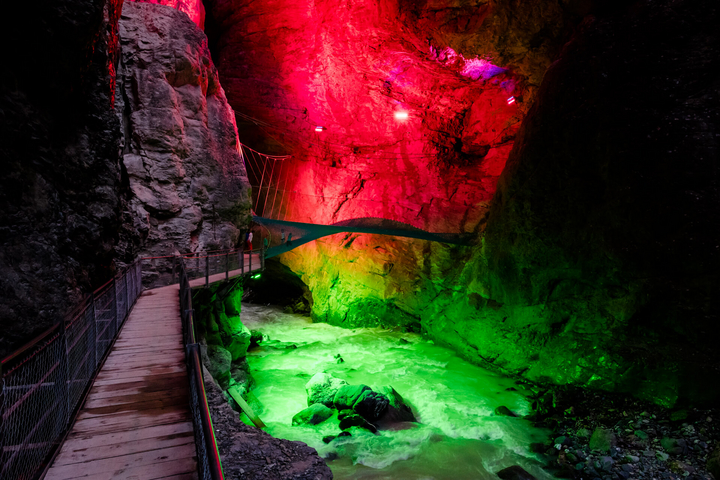 Light show - Spiderweb
Every Friday night until 10pm
*Private guided trips available on request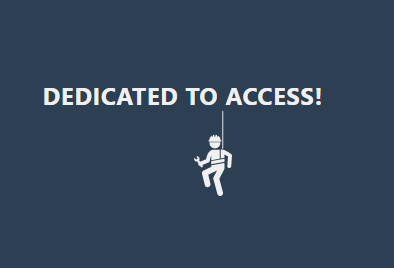 Maintaining access to the Glacier Canyon requires ongoing investment. Without these investments it wouldn't be possible to safely enter inside the canyon.
– At the start of each Spring, we invest CHF 65'000 to clear the canyon walls from loose rocks. Each square meter is checked by local mountain guides hanging off ropes high above the overhanging canyon walls. The process takes several weeks.
– During each year we invest another CHF 40'000 to upgrade the walkway.
Your support helps us open this unique world to the public. Thank you!
Tour details
| | |
| --- | --- |
| Adult | CHF 19 |
| Children under 16 | CHF 10 |
| Children under 6 | FREE! |
| Groups from 10 people | CHF 17 |
| School groups form 10 people | CHF 9 |
Entrance to the Glacier Canyon and Crystal Museum
The walk through the canyon is 1km long to the end
Bring a warm jacket, the air temperature is around 10°C (50°F)
There is free parking for cars and busses at the entrance
There is a restaurant at the entrance service great food and drinks Guesthouse Gletscherschlucht
This excursion is a great addition to the Jungfraujoch visit
Opening Times
May - November 21st (the season is subject to snow conditions). Please check the calendar for the latest availability.
How to find us
From Grindelwald village, take bus #122 to Gletscherschlucht. Gletscherschlucht is the end station.
From Interlaken (25 minutes)
Follow directions from Interlaken to Grindelwald. At the traffic circle at Rothenegg Garage shortly before you arrive in the village, take the first exit and follow Grundstrasse towards Grindelwald Grund. From Grindelwald Grund drive up the valley along Grundstrasse. After 500m cross the river on Wärgistalstrasse and then immediately left onto D'Linia. Follow the road all the way to the Glacier Canyon. Parking is free.
From Grindelwald (5 mins)
From the town centre, drive up Dorfstrasse towards Grosse Scheidegg, past the Firstbahn until you reach the church on your right. After the church, turn right down Ribygässli and follow the signs "Gletscherschlucht" for around 1 Kilometer. Parking is free.
You can walk to the Gletscherschlucht from the town centre in about 30 minutes along several different routes. We recommend to walk down the Endweg, cross the river and follow the Erlenpromenade signs along the Lütschine to the Gletscherschlucht.