Beneath the mighty backdrop of the world famous Eiger, Mönch and Jungfrau peaks lies the equally famous ski resort town of Interlaken. Conveniently situated just 20 minutes from the valley stations of Grindelwald, Wengen and Mürren, Interlaken earns its name as the gateway town to the Jungfrau Ski Region. It is an ideal base for both skiers and non-skiers, offering a large variety of accommodation options, activities, and extensive public transport connections to the mountain included in the Jungfrau lift ticket.
With what has been described as Europe's most dramatic mountain scenery, skiing in the Jungfrau region is a unique experience. However, it's not just the scenery that will impress. The Jungfrau region offers fantastic skiing conditions, well prepared and uncrowded pistes, excellent beginner areas and a large snow park. Snow conditions throughout the whole winter season can be guaranteed with the combination of Swiss Alps snowfall and extensive snow making facilities.
Quick Facts
3 winter sport resorts
45 transport installations
214 km of slopes at all levels
100 km of hiking trails
50 km of sledging runs
45'000 passengers transport capacity per hour
Snow-making facilities for more than 50 % of the slopes
33 Beginner runs
55 Intermediate runs
22 Expert runs
Getting to the mountain from Interlaken
Our Interlaken rental shop is perfectly located in the middle of Interlaken and within 20 minutes drive of the Jungfrau Ski Resort valley stations. We offer a free hotel pick-up service for ski and board fittings in Interlaken allowing you either to rent your equipment the night before and head to the slopes from your hotel the next day, or rent your equipment in the morning and depart directly from our shop to the mountain. If you are travelling by car, parking is available behind our shop while you organise your equipment.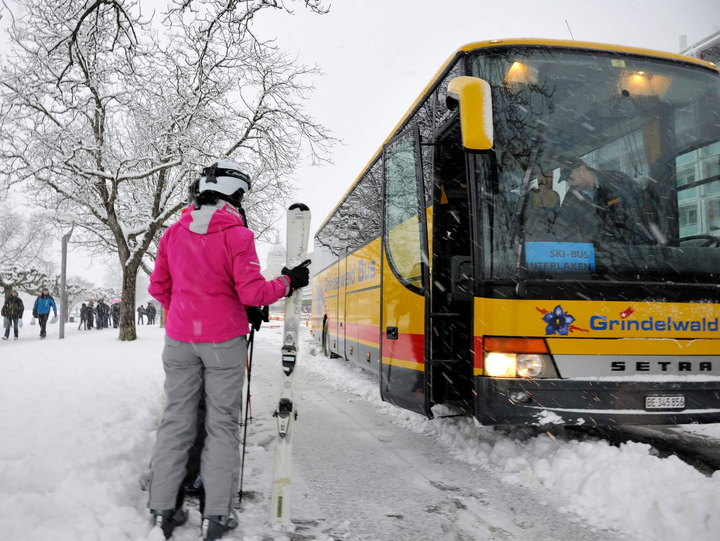 Free Ski Bus
The free ski-bus takes you in complete comfort from Interlaken to the Jungfrau Skiing Region. The bus departs from Hotel Salzano in Unterseen at 8:30 and travels through Interlaken, conveniently stopping at selected hotels along the way before arriving at Outdoor Interlaken. The ski bus then continues directly to the valley stations in Grindelwald.
The Ski-Bus departs back to Interlaken at 16:20 from Grindelwald and 16:30 from Grund. All you need for the free ski-bus to the Jungfrau Skiing Region is a valid Jungfrau Ski Region sports, sled or hiking pass as well as a valid and completed Interlaken Guest Card.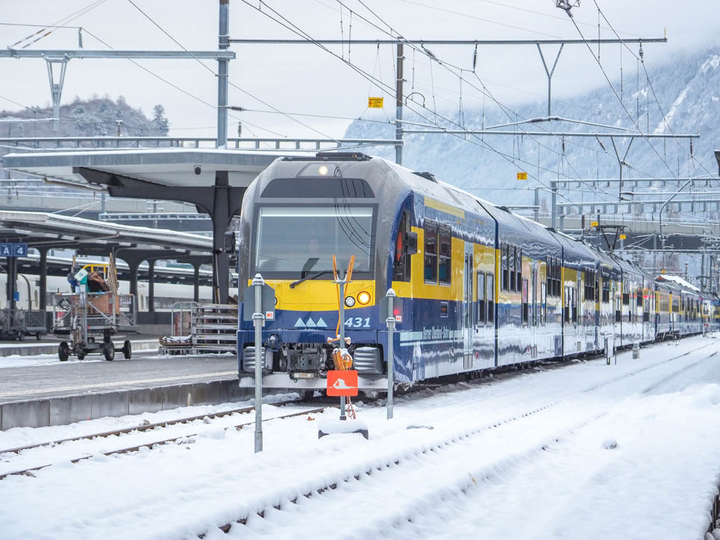 Jungfrau Railways
The Jungfrau Railways connect Interlaken to the base of all three resorts of the Jungfrau Region. Trains depart every half hour from Interaken Ost to Lauterbrunnen and Grindelwald. The train ride is between 15 and 25 minutes and the trains are equipped for ski equipment. From Grindelwald you can access First, Männlichen and Kleine Scheidegg. From Lauterbrunnen you can access trains to Wengen and Kleine Scheidegg, Männlichen Gondola LWM, and the Schilthorn Resort either via Gütschalp or Stechelberg.
Travel on the entire Jungfrau Railways network (excluding Jungfraujoch) from Interlaken is included in a valid Jungfrau region lift ticket. A valid Grindelwald/Wengen or Schilthorn lift ticket entitles you to 50% off between Interlaken Ost and Lauterbrunnen or Grindelwald.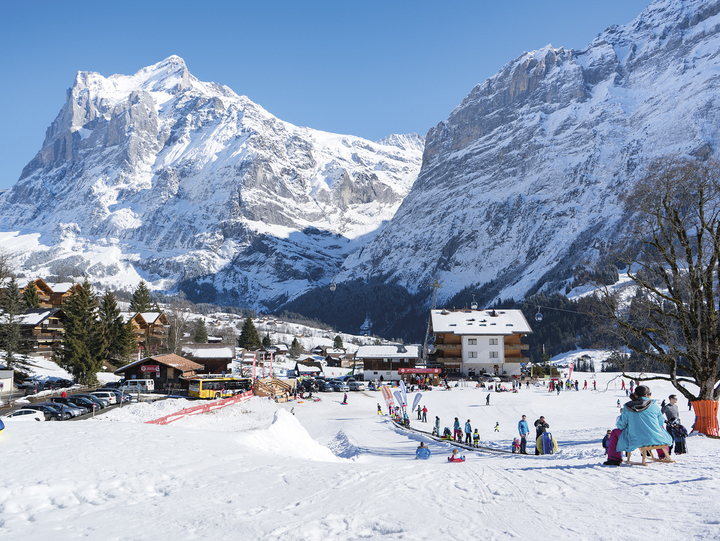 Bodmi Arena
Bodmi Arena is the largest beginners ski area in the Jungfrau region, and located conveniently in the famous Swiss mountain village of Grindelwald. With 6000m2 of terrain, we have an onsite booking office, restaurant, and includes the Swiss Snowli Kids village, magic carpets, a T-bar intermediate ski run, slalom course, and a play zone for sled and tube rides. It's the perfect place for your first time on skis, or for a day of winter sports fun, or both!